Login
Log in if you have an account
Dont have an account? Register
Pack 100 Lunches for DWC
05 Feb 2020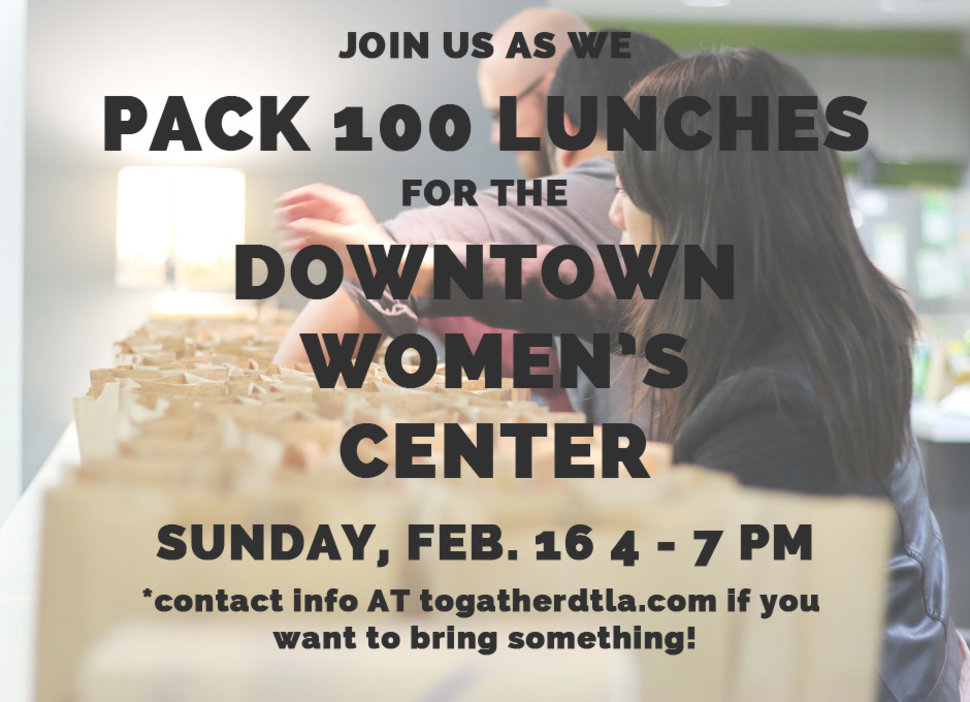 Join us on Sunday, Feb. 16th from 4 - 7 PM when we make 100 PB&J sandwiches and pack 100 lunches for the women utilizing the Day Center at The Downtown Women's Center. 
"Snack packs are essential to the women at the Downtown Women's Center (DWC). They are an opportunity to give participants a nutritious snack or meal before leaving the Day Center in the late afternoon. In a 2010 survey, 62% of women on Skid Row reported that they had slept in an emergency or transitional shelter. By providing an evening meal that can be taken to-go, women do not need to choose between dinner and a bed. "
The Downtown Women's Center has been serving and empowering women experiencing homelessness in our neighborhood for 40 years. Their programs offer safe spaces for women with the Day Center, their Women's Health Clinic is the only women-specific health clinic in Skid Row, they offer professional development, housing programs, trauma recovery resources and more. 
If you would like to volunteer for an hour or so, drop in on the 16th between 4 PM and 7 PM. 

If you would like to bring some supplies (loaves of bread! jars of peanut butter! Bags of oranges!), please email us at

[email protected]

so we can coordinate. 

We will be accepting cash donations the day of to go towards lunch supplies. Any additional funds will be directly donated to The Downtown Women's Center.
If you can't join us, or are looking for additional ways to show your support, check out the Made by DWC website or cafe/boutiques to purchase items made by women enrolled in the DWC Job Training Program.

}